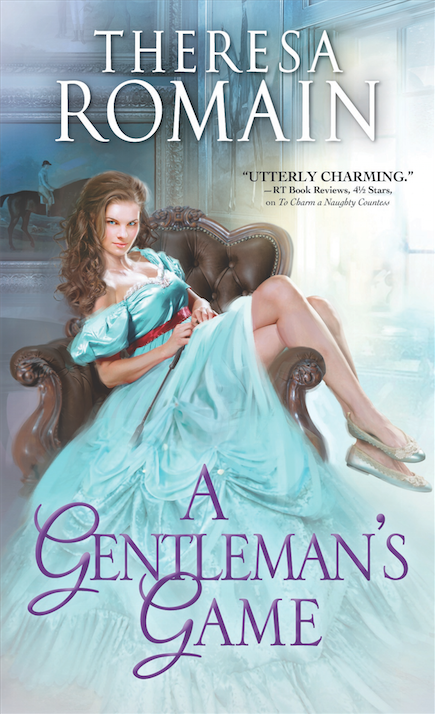 A Gentlemen's Game by Theresa Romain
Published by: Sourcebooks
Format: eARC
Genre: Regency Romance (Historical)
Reviewed by: Erin
What to expect: Featuring a road trip, old secrets, hidden lives, lots of horses, and sparkling dialogue.
Plot: 
How far will a man go
Talented but troubled, the Chandler family seems cursed by bad luck-and so Nathaniel Chandler has learned to trade on his charm. He can broker a deal with anyone from a turf-mad English noble to an Irish horse breeder. But Nathaniel's skills are tested when his stable of trained Thoroughbreds become suspiciously ill just before the Epsom Derby, and he begins to suspect his father's new secretary is not as innocent as she seems.
To win a woman's secretive heart?
Nathaniel would be very surprised if he knew why Rosalind Agate was really helping his family in their quest for a Derby victory. But for the sake of both their livelihoods, Rosalind and Nathaniel must set aside their suspicions. As Derby Day draws near, her wit and his charm make for a successful investigative team…and light the fires of growing desire. But Rosalind's life is built on secrets and Nathaniel's on charisma, and neither defense will serve them once they lose their hearts…
Review: A Gentlemen's Game is a damned delight of a book. Our hero is Nathaniel Chandler, the middle child of the Chandler clan. He is his father's eyes, ears, and legs — his father, Sir William, is in a wheelchair — but doesn't necessarily have his trust. Nathanial is charming, handsome, and rootless. He travels all over England to pursue his father's interests, quietly fixing problems and making himself invisibly indispensable. He's also a recovering alcoholic, which is just one pebble in the wall between him and his father.
Rosalind Agate is Sir William's secretary, having filled the spot left by his youngest daughter, Hannah. (Hannah's story is told in The Sport of Baronets, the prequel novella.) She is also quietly, effortlessly invisible, but for altogether different reasons. Rosalind's secret life has left her rootless as well, traveling all over the country in the service of a mysterious Welsh woman.
The two are thrown together on, of course, a road trip. Nathaniel and Rosalind take Sir William's horses to Epsom for the Derby, and along the way both of their pasts catch up to them. One of the things I like about Theresa Romain is that you're never quite sure where the story is going. There's an expected, classic arc to romances, and there are expected characters and archetypes, and her stories and characters never fit where you think they will. There isn't so much of an epic crescendo as there is a slow, sweet immersion in the world she builds.
As Nathaniel says:
And she must have realized what he was doing, what he meant, for she smiled. It was a sunrise sort of smile, sneaking up a bit at a time until everything all of a sudden was bright and glowing.
That's what this book is like. I could have lived in this world of horses and dogs (so many good dogs, love it) and the rarely-visited world of the Regency middle class for a long time. At one point, when Rosalind and Nathaniel are in the barn together alone, Rosalind makes the observation that, if she were a lady of the <i>ton</i>, her reputation would already be ruined. This is a nice callback to the world of the Regency that most romance readers know, and a reminder that the rules were different for working women whose main value wasn't their virginity.
The book takes us on a journey, but it's not all meandering and sweet nothings; Romain has a talent for words and dialogue, and there are many funny exchanges. A sample:
"If this is the sort of conversation you're to threaten me with over the next week, I shall ride ahead and talk to pale Marauder instead."
Fifteen or twenty lengths ahead, the cream-colored colt let a dropping fall to the road. "Or perhaps not," Rosalind added. "I'll promise to keep company with you if you promise continence–"
"Done."
"–and tell me of your own pursuits."
Rosalind is serious and severe at times, but she wants to be the laughing girl she was before she lost her innocence. (And can I add that I love that Rosalind's traumatic past has nothing to do with rape or sex or sexuality? Thank god.) Nathaniel is just so down to the bone good, just a good, nice guy who wants to do the right thing. He's blatantly smitten with Rosalind from the beginning, so if you like that kind of beta hero pining, this book is for you.
The ending feels a little rushed, particularly the part after Sir William shows up. I think that the relationship between him and Nathaniel is resolved a little quickly, and the story loses some steam after the Derby. But those are nitpicks; overall this is a fantastic book, and a truly exciting start to a new series.
What I loved: The smart and funny writing, the sweet beta hero, the immersion in a particular time and place in history. Also, the sheepdog.
What you might not like: I don't know, man. I can't think of anything.
Please follow and like us: